Events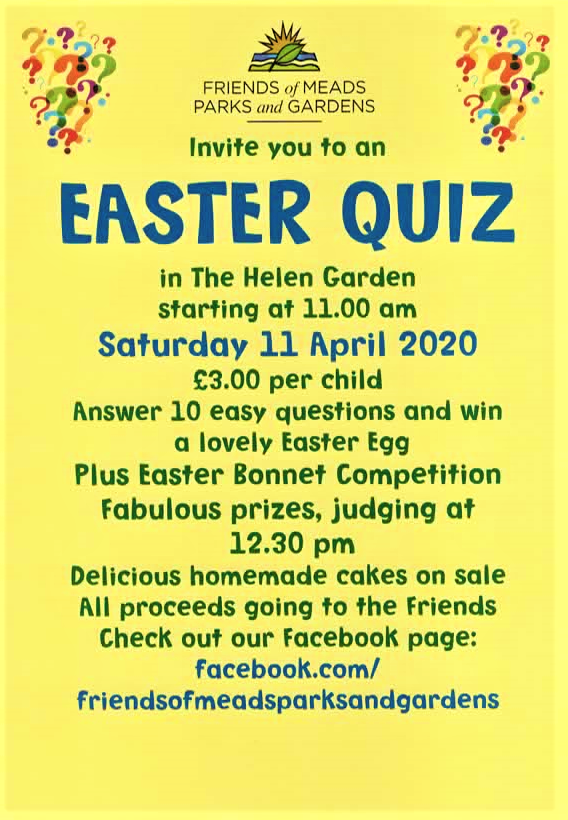 Friends Easter Quiz 2020
We know that this will probably not come as a surprise but in the current circumstances, we have taken the decision to cancel this year's Easter Quiz. It has been a sad decision to make because we know how much everyone, especially the children, enjoy it but there is nothing more important than their safety and that of the rest of us.
Take care everyone. Keep safe.
Terrie
Chair of the Friends of Meads Parks and Gardens
Most recent events:-
"Friends" at Airbourne - 18th August 2019
Easter Quiz - 19th April 2019
Meads Village Fun Day - 9th September 2018
"A Midsummer Night's Dream" - an EODS production in the Italian Gardens - July/August 2018
Previous events
Easter Quiz - 30th March 2018
Members' Meeting - 18th November 2017
10th September 2017 - Meads Village Picnic
25th July - 5th August 2017 Shakespere in the Italian Gardens
Saturday 6th May 2017 - Annual General Meeting
Good Friday 14th April 2017 - Easter Egg Hunt
11th September 2016 - Meads Village Picnic
14th August 2016 - Picnic in the Helen Garden to watch Airbourne
27th July - 6th August 2016 - EODS Productions of William Shakespeare's comedy... As You Like It!
12th June 2016 - Street Party in Meads to celebrate the Queen's 90th birthday